Testimonials
---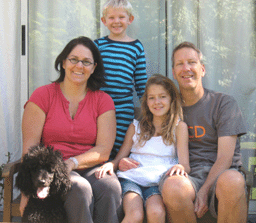 As a young family of four, we looked forward to the day that we would add a puppy to our lives. I had forgotten, however, how much training and effort had gone into the obedience training of the dogs of my youth. With my hands full of kids and working responsibilities, I found myself frustrated and exhausted by our delightful, rambunctous Leo before we had even hit the six-month mark. I couldn't fathom why, with all my 'know-how', that Leo wasn't sitting, staying and coming on command after a month of practice and training. My shoulders were sore from his forging down the sidewalk three feet in front of me; his potty-training was set back daily by allowing him fun and freedom with two kids in the house. And to complicate matters, Leo was only responding to my leadership and not my husband's and certainly not our kids, who found the whole thing just great fun. In spite of assigning the children to evening episodes of The Dog Whisperer, by week six Mommy wasn't having any fun at all, and I found myself wondering what I had been drinking when we decided to bring a high energy dog into our lives at this time.

We were referred to Maria by way of Mary in Dr. Watanabe's veterinary office. From the first phone consultation with Maria, we felt that we were on our way. We booked Leo for the Lodge & Learn program and are happy to report that Leo came home a young gentleman. Each of the 'standards' that Maria addresses here on her website have been achieved with success. 'I' has now become 'we' in our family training program, and Leo has responded beautifully to the training. We live in a lively neighborhood and our doorbell rings anywhere from 2-6 times daily. Our greatest dread was a doorbell-drama dog and everything involved with that. Working with Maria, we developed a plan that is coming along swimmingly at Leo's 7-month mark. We call it the 'doorbell place' and Maria can work with you
and your dog to achieve this. Basically Leo goes to the allowed place in the
entry-hall and 'waits' in a sit-stay while the visitor is either dispatched or
invited inside. It requires lots of training and treating and practice, but he's
so proud of himself when we give him his 'break', then and only then he can
greet the guest.

I would be pleased to take your telephone call if you want to discuss Maria's
Top Performance business and/or any other experiences we have had over the course of our training. We also continue to board Leo with Maria when we travel and getting infrequent brush-ups is great for Leo. He loved this experience so much that he now starts to agitate with joy when we exit the 10 in Riverside as he knows that Maria and his friends are all there waiting for him. It has been our pleasure and our joy.
Thanks Maria,

Jennifer Bedford & Michael Lejeune
South Pasadena CA
626.799.2338
---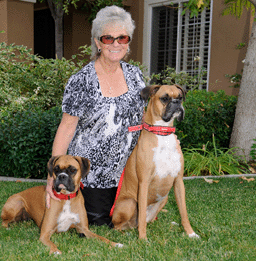 Hi Maria

I would like to thank you and TOP PERFORMANCE for the excellent care and training that you gave to my Boxers, Morgan age 2 and Mackenzie age 4. Morgan was totally out of control. Mackenzie never had
training as a puppy, but, then I didn't think she needed it because she always did what I told her to do. Boy, was I wrong. Maria has taken care of both of my babies several times since opening TOP PERFORMANCE. I have left them with Maria 3 times for 1 week, 2 weeks and the longest time for 3 weeks. For their 3 week stay she took both dogs through her doggie boot camp for the entire 3 weeks. When I got home I was absolutely amazed when I saw what they could do and how well behaved they were. When Maria came to my house for a home training inspection I was very proud that both dogs followed my commands as they were trained to do. I know Maria was happy with their performance when she saw them again.
I think with Morgan being so well trained it has given her more confidence in herself and she doesn't allow MacKenzie to dominate her as before. I love my dogs so much and they are an important part of my life so of course I am very protective of them. I will only take my two babies to Maria as I know she is a wonderful and caring person plus an excellent dog trainer. I highly recommend TOP PERFORMANCE to all those people that love and care about their dogs and want the best training for them.

Thank You

Micki Souter
and Morgan & MacKenzie
---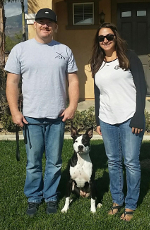 THE BEST MONEY WE'VE EVERY SPENT!!! We brought Gypsy home at 8 weeks, and although sweet, she was out of control. Jumping on people, biting and pulling on leash, running around the house like she owned it, etc. Around 10 months old, we decided we couldn't take it anymore and called Maria as a last ditch effort. We got Gypsy back, and she is a changed dog. Now she listens and behaves on leash. She comes when we call her. She drops and leaves her toys when asked. She no longer pulls and bites at the leash. We love our dog and now we get to enjoy her thanks to Maria.
Bree and J.R. Ryan
---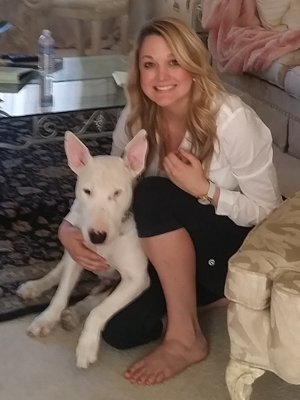 I want to thank Maria at Top Performance Dog Training for the amazing training with my 3 year old English Bull Terrier, Bazzle. I had rescued Bazzle about 7 months prior who had a pretty rough beginning where a Good Samaritan rescued him with a huge laceration across his head infested with maggots, mange, severely underweight and extremely skittish. After we bonded and got him all sorts of healthy we then had the long road of obedience training. I had spent a pretty penny on a daycare/training program in Santa Barbara, and after 8 sessions he still didn't even know the sit command. I worked every night with him for a few weeks with no progress. I boarded him 3 different times where he had a questionable limp, bitten nose and underweight, that was it for me. I left Bazzle with Maria for 4 weeks and came home to a changed little guy! He's always been an excellent indoor dog, but outside the house was not fun for walks. Maria had him sit, stay, down, heal and come in 4 weeks. That's a lot of progress for a stubborn bull terrier. The best part is he doesn't just do it for her! I've worked with him every day since and it's simply amazing! I can't say enough great things about her! She boards the dogs inside, socializes them, and is firm but not physical when training. I can now run Bazzle and now we get to go where I want to! Simply amazing trainer!! Save money and take your dog straight to Maria!

Paige And Bazzle =
---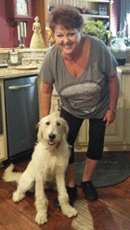 I am a proud owner of a female Labradoodle. Her name is Tilly (a.k.a. Chantilly Lace). Tilly was flown in to me from Spokane, WA. She has been a joy to have since day one, but we all know how puppies need training. I contacted Top Performance Dog Training and Maria the owner was very helpful and imformative. She helped me decide on having Tilly attend her "Doggie Boot Camp". Tilly attended boot camp for 3 weeks of training. I am so pleased with everythng. Maria is an excellent trainer and I highly recommend her to anyone that needs their dog trained. Thanks Maria for making my dog a gooooooood dog. Our house is a better home now.
Karen Redman
---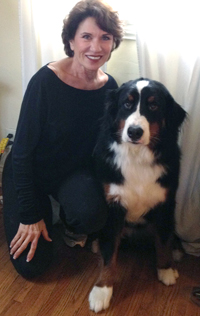 Thank You for bringing a sense of peace, contentment and happiness to our family. Miguel, our second Bernese Mountain Dog is our third big dog.
Miguel was unconfident, soulful, protective, and rambunctious. We thought we knew what to expect from our past experiences withy a Berner. Confident we could work with and train our little pup with ease. It became apparent right away when we joined our puppy class that Miguel was no laid back dog. Our Bernese Mountain Dog acted like a lab. His energy level and stubbornness was off the charts. We actually became that couple that the folks in the puppy class rolled their eyes at. Feeling sorry for our over assertive, over active and bossy big puppy, we knew we needed help. That he was twice the size of all other pups did not maker it easier for other pups to play with him. At 9 months he bolted out of his crate nearly knocking me over, didn't come when called and pulled when we walked him. As far as his training, now he practically rolled his eyes.
We decided we needed help. We were referred to Maria by way of Mary in Dr. Watanabe's veterinary office Maria listened to our problem and was friendly, very warm and really understood Miguel and us. Convinced that she could fix us and Miguel we booked Miguel for the Lodge & Learn program. Wow. Miguel came home not just trained, but happy, affectionate, calm and respectful. We were absolutely stunned how well behaved Miguel was. That was over 6 months ago and Miguel is still a pleasure in our lives. Whenever we take a vacation, Miguel goes to top performance for boarding and brush ups. Maria is the only person in the world besides us that when he sees Maria and her famous dog mobile, he runs into her arms. Needless to say we highly recommend Maria.

I am by profession a dog portrait oil painter, a dog lover and most of all a proud mother to a very well behaved, happy and content well trained Bernese Mountain Dog. After painting the portrait of "Daddy" for Cesar Milan my professional and private live came together in a most successful way. A commission to paint a portrait of one of my client's dogs led to another and another As a dog lover myself, I see just as much love and capacity for expression in a dog's face, as I do the human face. I find myself smiling whenever I have the opportunity to paint one. Some of my latest dog paintings are currently on display at Rover Kennels, Culver City. The Malibu Art Shows and Santa Monica Art Shows in Los Angeles.
Check out my website for a look at my world of painted dogs.
www.revaspaintedpets.com
Thank you Maria,
Reva and Jeff Mattson

---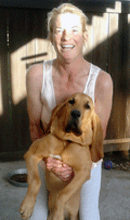 I have a female Bloodhound puppy and had no idea how much ENERGY they have. I was and am determined to teach my dog proper manners and keep her in the house. I found Maria and I felt like she could help me because my dog was: out of control, always biting, and treating me as her litter mate. I felt comfortable with Maria right away and I had to be if I was going to leave my puppy with a total stranger for 3 weeks. My husband and I were thrilled about the first week results. I was at my wits end before I found Maria who tought her all the basic obedience commands. By week 3 I had a puppy that I could manage and enjoy. I won't ever say it's easy, but Maria taught me how to be in control while still having fun, and yet also set boundries. I have a great time with my puppy and my husband is thrilled that I'm also able to control the puppy. He says only problem is that the puppy and I have about the same short attention span! LOL! Always my Hero!!!!
Kathy Burgoon
---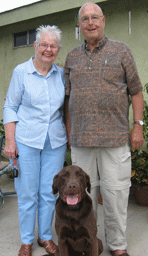 My name is Charley; I was the largest pup in a liter of Chocolate Labs, born about 4 years ago. As soon as my eyes opened my mom told me that I would soon be adopting a family of humans and I was sure to be a stubborn pack leader. My mom was a good leader, I could tell by the sharp, but loving nip on the back of my neck if I got out of line. I learned quickly, even at 2 or 3 weeks old. Soon a couple of elderly humans took me to my new home, I emphasize my! Yes I was a puppy with puppy behavior, but now I had my very own pack. During the next 4 years I learned to really love these humans. I even let them think they were the leader in most things around my house and yard. However, I was not going to do what they suggested unless I wanted to. When I took them on a walk I went wherever I wanted, even if I pulled them over. I very much enjoyed busting out of the house whenever I could to check out the smells and people in the neighborhood. My pack members couldn't even get me back to my house with food (one of my favorite things).
Soon my pack members voted to send me to a human who is real pack leader for three weeks of comprehensive intervention in order to make me a happy follower instead of a leader with an unhappy pack. My new leader was very nice. But I wasn't able to do the things that upset my pack. She acted a lot like my mother. If I got out of line or didn't follow her ommands in 2 minutes, she would nip me on my neck somehow, just like my mom did. She really loved me and let me play with some of her pack members. After the 3 weeks I realized that I was no longer the leader and I was really happy about that. I became a Prince and my pack became King and Queen...and Maria a hero. I now heal really well and don't pull. I come, sit, lie down, stay, and wait when asked by my king or queen. I try my very best to do what ever they want. Maria showed my leaders how to nip like my mom did if I forget. All of our friends and family are proud of me. I just love everyone now that I don't have the responsibility of being the leader. Whenever my leaders go out of town they will let me visit Maria and her pack and that will really be fun. Dean and Dare Alexander wrote this because Charley isn't allowed at the computer anymore. We greatly recommend Maria…she is worth it!!!
---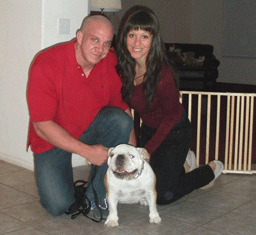 We adopted Bella when she was 4 years old in mid-October of 2008. After one week of having her at our home, we knew she needed professional obedience training. Her issues included anything and everything; from door-bolting, ignoring any and all commands, snapping at people, jumping, leash-pulling, etc, etc. Fortunately for us, after doing some internet research, we found Maria Bond with Top Performance Dog Training. We knew the Lodge and Learn program was exactly what Bella needed. Maria not only worked with Bella extensively, but she also educated us on how to be respected by Bella as the dominant leaders. We were very pleased to know that Maria uses positive reinforcement throughout her dog-training techniques. It is amazing to see how far Bella has progressed since the Top Performance training - she is actually willing to please! In the three weeks of the Lodge and Learn program, Bella transformed from entirely stubborn and uncontrollable to a well-behaved and pleasant mannered bulldog. We continue to practice the training that Maria has taught us and will also continue to board Bella with Maria on our out-of-town vacations. We trust Maria Bond's expertise and highly recommend Top Performance. Maria, we can't thank you enough for helping Bella become a better companion, as well as training us to become better owners.
Sincerely,
Steve, Regina & Bella the Bulldog

---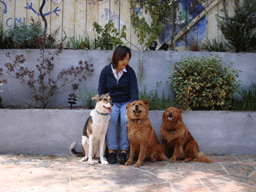 Hi, my name is Madison. My mom adopted me when I was 3 months old. I joined my new family which included Ginger and Jett. Because I'm dominant, mom had trouble with me and I terrorized the others who who are more easy-going. We used to walk with mom though we were out of control (it was fun!). She started walking me separately because I was bigger than the other two and I lunged at other dogs. I was also getting into fights with Ginger and bit mom by accident when she tried to stop us. Mom was so scared when other dogs would pass by that she would walk me down a driveway and try to distract me. She almost gave me up because she felt she couldn't handle me. That's when my vet introduced her to Maria Bond. Maria realized that I was insecure, needed to realize mom was alpha and needed more obedience training. I was sent to doggy boot camp at her place for three weeks. Mom called everyday and came out to visit. After I came home, Maria came out for two home training sessions. She realized that Ginger and I were both similar and trying to be the dominant one. Mom was very relieved that Ginger and I could get along. Now when we go walking, I don't lunge as much...I know better! Things are so much better at home. Mom, Jett and Ginger say "I'm a keeper!"

Florence
---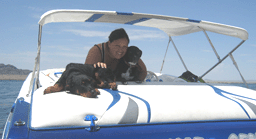 I am writing in reference to the dog training my 6 month old Rottweiler (Miracle Grace) and I received recently at "Top Performance", owned by Maria Bond. Before she had the training she would barge the doors without waiting to be told that it is okay for her to step out. She (Miracle Grace) had no sense of the rules that would apply to her. The biggest problem I had with her (Miracle Grace) was she would pee and poop in the house at any given time. Maria trained me to train her (Miracle Grace) and recognize the signs of when my Rottweiler (Miracle Grace) needed to go outside and do her business. This has helped me so much that we are now not just compatible but we are happy not living in the stink and we are also happy that she (Miracle Grace) knows I am the boss and not her. Without Maria I don't know what I would have done. Sending my dog to "Top Performance" was the best decision I ever made. I know have sent my other baby there Twister to help her also know that I am the boss not her, I have gone and seen some of her progress and it has been great, I can't wait to bring her home. I know she will be as good as Miracle Grace, Thank you Maria and "Top Performance" for all you done for me Miracle Grace and Twister.
Thank You never seems enough to say,
Teresa S. Stuckenschneider
---
Victor & Maximus

Click here to view testimonial
---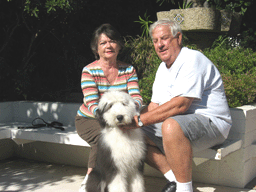 As a middle aged+ couple we decided an Old English Sheepdog puppy would be a great addition to our quiet home. We got Prudence and she did liven up our house---too much!!!! I contacted our veterinarian who recommended Maria Bond, owner of Top Performance, and at 4 months Prudence was under Maria's training for 3 weeks. What a difference when she came home; house broken, leash trained and the basic commands learned...and Prudence loves Maria!!! Maria did an outstanding job training Prudence, making her a trained, lovable, and enjoyable pet. She welcomes our calls about anything and everything as we continue our training. Maria was an unbelievable find...Maria is a marvelous miracle.
Thank you,
Bob and Peggy Powell
Pasadena, CA
---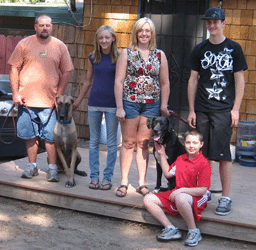 Thank you Maria for working with our dogs Vegas and Max. Before coming to Maria, Vegas lacked self confidence since he was abused as a puppy. He was scared of everything including my olderst son. All he did was hide in our bedroom. Max was the opposite. He was very dominant. Walking him was a nightmare. He would rip our arms off trying to chase after everything. He even ripped out of his harness. After going to Maria, Vegas is still a little timid, but with the use of his collar we are able to lead him through his fears. He follows all of his commands and is very pleasant to walk with. He is really coming out of his shell now that he has rules and limits. Max also is very pleasant to walk. He heels at our side and doesn't chase after anything. He too follows all the rules and knows that he isn't the pack leader.
Thank you Maria!!!!
The Sumrall Family
---
Maria is a fantastic person to work with! I was in desperate need of a Trainer who would work with my limitations and with my German Sheppard. As a person who is young and disabled, it was important to my health that my German Sheppard be obedience trained, and also trained as a Service Dog. With Maria's training, within two Weeks, Jolie was behaving and doing commands that I never thought she would do. After about three weeks, Jolie was off of a Prong Collar and onto a Martingale. Ever since the end of our Sessions, Jolie has usually been on her Martingale and is a changed dog.
Thank You, Maria!
- Kitten Michele Cardenas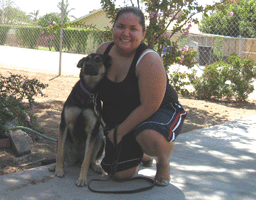 Maria helped my Alpha Master to train me and become a proper Service Dog. I get to go everywhere with my Master. Maria taught my Alpha Master that maybe I could learn how to do things, and to have a little faith in me. Since my training with Maria, (summer of 2008), I can do basic commands, wait in the position I'm told (either to sit or stay) so my Alpha Master isn't tripping over me…practice is the key! With Maria's training I've since learned to tackle agility courses and to recall to the sound of a whistle.
Thank you, Once again Maria!
- Nightmare 'Jolie' Cardenas
---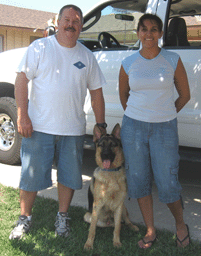 We want to thank you, Maria Bond at "Top Performance Dog Training," for the great training provided to our 10 month old German Shepard, Thor. We received Thor at 9 months old, after his original owner couldn't keep him. He was unruly, destructive and misbehaving. He needed help!!! Thor came home from "Top Performance" with confidence and respect. He is obedient and a pleasure to have around. We have and will continue to recommend your services to anyone who has a dog in need of some Top Class training.
Thanks,
Ryan, Ward, Paula and Thor
---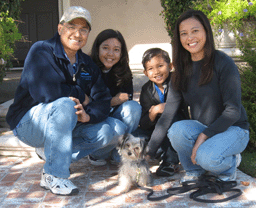 It was a big decision for us to buy a puppy because of the responsibilities and time commitment we knew were involved with caring for a pet. Snuggles, our Morkie (1/2 Yorkie and 1/2 Maltese), joined our family in September 2008. We took Snuggles to a puppy training class for eight weeks, and Snuggles learned some basic commands. Rod was convinced that there was better dog training available and he discovered Maria Bond's Top Performance Dog Training website. At four months and a hefty 6 pounds, we sent Snuggles to train with Maria Bond. The results after three weeks were absolutely AMAZING! When we brought Snuggles home from training, she was like a whole different puppy! She was so well behaved overall and it made our pet experience even more enjoyable! It is actually a JOY to walk Snuggles in our neighborhood now. She heels so well and follows our commands; we actually look like fantastic dog trainers/owners. We have received so many compliments from people because Snuggles truly stands out as a well-trained dog.
What's it worth to have a well trained dog?...PRICELESS! We highly recommend Maria Bond's training to any dog owner. Maria Bond really does make herself available to her clients. She welcomes phone calls and questions; she is truly committed to successfully training dogs and their owners! Having Snuggles trained by Maria has definitely improved our quality of life - less stress and frustrations! Maria - Thanks for the OUTSTANDING training you provided our entire family!
Rod, Maria, Tiffany, Ryan, and Snuggles
---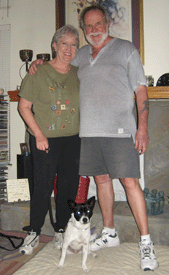 Hi Maria,
Thank You for your professionalism, friendliness and positive reinforcement during your Lodge & Learn program. From my first visit, you answered all my questions. The results during the 3 week program are amazing. After losing our best friend of 14 years, our new "bundle of energy" seemed unmanageable. We adopted Abby from a rescue shelter, with little back ground on her history. After 2 months, John and I knew we needed help. Abby was afraid of most everything and your program gave her the confidence and discipline she needed. The training program wasn't just for Abby, Maria worked with both us and we are enjoying our life together. If we ever need a "refresher" I know she will always be there.

We highly recommend Maria. She will show you how to enhance your relationship with your best friend!

Best Regards,
Pam, John and Abby
---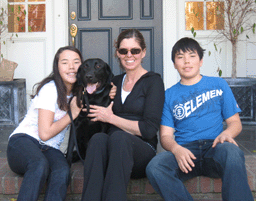 Maria is GREAT! We were having so much trouble with our one year old lab Buddie. As he grew bigger and bigger he decided he was the boss. It got to the point where we couldn't walk him because he was so strong that he walked us. He also jumped on everybody and ate our food right out of our hand! We were desperate to find a good trainer for Buddie. After going to Maria for training, Buddie learned that we were the boss and he should listen to us. Maria trained Buddie and taught us the commands that she taught him. Now when we walk him he heels by our side and does not pull us. THAT'S AMAZING! Also, he doesn't escape when we open the front door. He follows all of the commands that Maria taught him. Buddie is a confident, much more calm, better behaved dog and we love him.
Thank you Maria,
Alex, olivia and Maria
---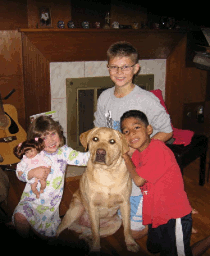 Rudy is one of those loveable year-old yellow labrador retrievers whose tail knocks over everything and everyone in the house. Eager to please, but impulsive and stubborn, it was a challenge to enjoy a walk in the neighborhood or an evening in the backyard without being either yanked along or barged into with a toy. With three little children and a large extended family, the last thing we enjoyed hearing was "uh oh, here comes that dog!"
After his time with Maria at Top Performance, his transformation has been unbelieveabl and delightful. Indeed, it is our responsibility is to continue to be consistent with the commands he learned at on-leash training, yet working with the new and improved Rudy has inspired us. I had to chuckle when our four year old said last night, "Is this the same Rudy or a new one?" Indeed, Maria has made the difference, and now I am sure that our friends and family will appreciate as well the "new" Rudy.
Rudy's Family
---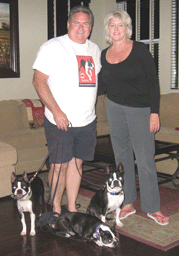 Maria was great to work with. From her very first visit, our three dogs Sophie, Jake, and Dexter were obeying simple commands and much easier to take for a walk. Not only did she train our dogs, she gave us the skills to continue and enhance their training.
Scott and Laura Culbertson
---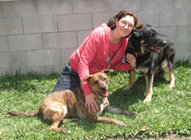 Woof Maria, thank you for coming out to my house to help my mom learn how to talk with me. she's much calmer on our walks and i don't have to worry about taking care of her so much and just enjoy our walk.... i still get a bit concerned about other dogs, but i'm learning bit by bit. i know how to wait until she says it's ok to do something... like walk out the door or get my kong that she stuffs full of yummy things....slurp!

Tail waggings,

Tuli
translated by mom, Angie
moral support by Sam
---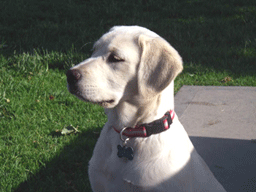 Hi Maria, I thank you for training me and helping me learn my manners. Although I enjoyed learning new things in training, I liked socialization time with my new friends, swimming and getting my dog hair in the pool. My mommy also enjoys me since I listen to her when i am on and off a leash. Thanks again for all your hard work.
Lexi, "Lodge & Learn" graduate