Advanced Off-leash Graduates
---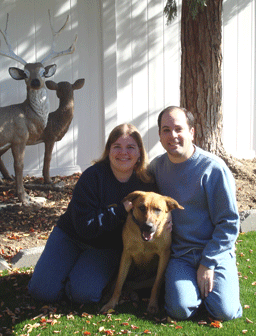 We adopted our puppy, Winnie, when she was only three months old. She is a Belgium Malinois, Golden Retriever mix, and at three months weighed in at 27 pounds. Winnie would pull us while on walks, bite and scratch to get her way and did not listen to any commands. My friends from work suggested we take Winnie to Maria at Top Performance for her Lodge and Learn Training Program. We heard several success stories from their experiences so we wanted to give it a try. At six months, Winnie was enrolled in the three week program. It was amazing to see the changes in her during our first visit, one week into the class. Winnie was eager to please Maria as Maria called out commands in the yard. She was very proud of herself and would prance around with confidence. At the end of the three week class, Maria taught us how to do the commands and how to correct Winnie if she did them wrong. Maria was always available for phone calls after the class and even came out for a home visit to make sure Winnie was progressing correctly. Six months later, we enrolled Winnie in Maria's Off Leash Program. Winnie fine-tuned the commands she had previously learned and was now able to do them without being on a leash. Now I can correct her behavior from inside the house if I see she is doing something destructive in the yard. I can't tell you how nice it is to give a command to Winnie and have her respond without having to have her on leash. She no longer pulls when we go for walks and she doesn't chase after distractions like toys or other animals if she knows she is supposed to stay still. I can't recommend Maria's Top Performance Training enough. She has turned our dominant dog into one that is respectful and a true pleasure to be around. Thank you Maria!!
Josh, Debbie and Winnie
---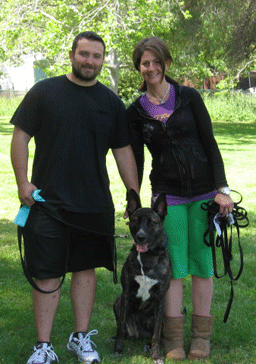 My boyfriend and I brought our dog Bella to Maria at a time of complete frustration. While Bella, a Belgian Shepherd/Pit Bull mix, was the love of our life, she was also completely out of control despite our best efforts at training her on our own. Our frequent trips to the park and attempts at training Bella had failed; and the whole family was at a loss of what to do.
We found out about Maria and her beautiful dog facility in Riverside, CA. We honestly didn't expect any miracles when we committed to leaving Bella for the six weeks of training. However, we did know Maria was passionate about dogs and extremely knowledgeable about the issues we needed help with. After four weeks of training, we excitedly picked Bella up at the facility. This was like picking up a new dog. We brought home a dog that now sits and stays, listens to our commands, and doesn't hound us as we enjoy eating a meal together. Clearly, we concluded, this is Maria Bond's calling in life. With her knowledge, passion, and love, she allowed us to have a magical homecoming with Bella. Everyday our family is reaping the benefits of Maria's style of training and her clear love of animals.
Dani & Jesse
---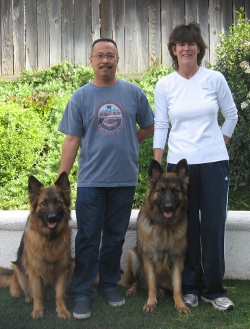 I have two, German. Sheppard dogs, Sasha and Sonja. Both were trained as puppies, but I never learned corrections for their bad behavior. The training was reward driven. It was great training for basic puppy skills and socializing, but as they got bigger and stronger it got worse trying to walk them and especially walking them around or by other dogs. Whenever we walked by other dogs they went crazy, pulling and barking, it was embarrassing. I was referred to Maria by a friend/co-worker and I have been so very pleased and happy with the training. In 5 weeks both my dogs are so well behaved on walks that it is really enjoyable to walk them and not the constant fight and struggle I usually endured.
After the basic obedience 5 week training course, I have continued with the training moving on to the off leash training. Everything is great. The off leash is more difficult, but they and I are continuing to learn. I plan to keep up with all the training. It is amazing what you can do with the right training and trainer. Thanks Maria. Angelo, Sasha, Sonja, and I are very happy and will refer you to others and will keep you in mind if we need any additional training.
Eileen and Angelo Casey with Sasha and Sonja
---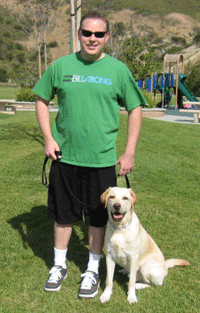 Gregg and Riley