Private Lessons
The primary benefit of this course is that you yourself will be learning to train your own dog. This program is best suited for owner's who have the time, patience, and dedication to learn how to train their dog with our guidance.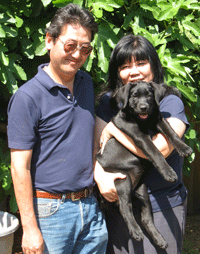 Private lesson graduate Nori with owners Joan and Steve
Each week you will learn new commands and techniques to practice with your dog. To get the best results you will need to practice with your dog each day. You will also be taught how to fix any problem behaviors you're dog may have. Morning, afternoon, and evening appointments are available to fit your busy schedule.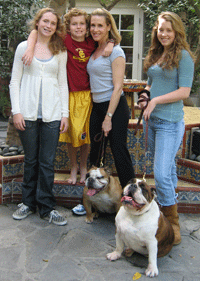 Sara and family with private lesson graduates
Obedience Training Covered:
Heel: walk by your side and automatically sit when you stop
Sit & Sit-Stay
Down & Down-Stay
Recall (come): when commanded return to you in the heel position
Place: go to designated place and stay until released
Door-Bolting: wait at specified open doors or gates until released
Release Word: use of a release word such as: break, at-ease, relax, release, etc.
Solutions to common problem behaviors such as: digging, chewing, nipping, barking, jumping,
Proper manners and socialization in public and private settings
Housebreaking: teach your dog to go potty outside
Instruction can be modified to address the owner's special need
Training equipment for this program is included at no extra fee. At the owner's request one training session may be spent visiting a local public setting to work on distractions and socialization such as: pet store, park, neighborhood street, or near a dog park.